our portfolio
Website Design Services:
At Cox Consulting we pride ourselves on delivering high-quality website design services at affordable rates to both our personal clients and our partner relationships. Our design team has completed 100's of sites in the past few years and we have always delivered professional results. Please review the sites we are showcasing below or for a complete list of work please CLICK HERE. If you would like to learn more about our services please CONTACT US.

North American Title Company
www.nat.com
Web Development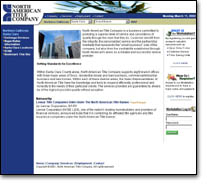 North American Title Company had just unified several of its Divisions under one name and they needed a website that brought all eight Divisions under a single vision. Not only did they require a new look but they also needed a sophisticated system developed for their clients - mostly Realtors - to interact with their Sales Associates. This was acheived with the construction of the Workstation, a secure, logged-in area within the website where North American Title Company clients can submit Order and Customer Service forms, track all form submissions to their Sales Associate, and have access to many resources customized to each Division. To read more about our successes with North American Title Company, CLICK HERE to learn more about the Workstation and all the Custom Programming Solutions we have developed for them.
The James Oswald Company
www.jamesoswald.com
www.oswaldfinancial.com
Web Development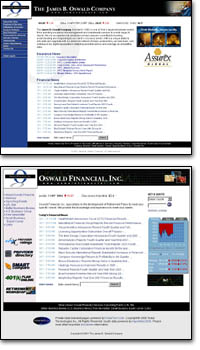 The James Oswald Company needed a facelift to their existing website. We showed them several different design concepts and we settled on a very simple yet professional appearance. We integrated a stock ticker, financial news, as well as a news update feature that allowed JBO to update news releases on their own through a secure database administration screen.
Part of the project development included creating a logged-in area for their clients to review important documentation related to polices and provided users with contacts within their organization and other partner companies.
We also developed a site for Oswald Financial, Inc., their retirement benefits group. This site was also very involved and involved linking to several external websites for content. Their site also incorporated real-time stock information and stock portfolio management that was supplied by a vendor that we helped them find.
Franklin & Seidelman
www.radreports.com
Web Development with The Digitant Group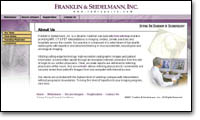 Franklin & Seidelman had an existing site that did not meet their current marketing requirements. Working with the Digitant Group, Cox Consulting worked directly with the client to understand their site goals and develop a web presence that met the requirements of a very sophisticated market.
P2M - Project Planning & Management
www.p2mnet.com
Web Development with The Intercon Group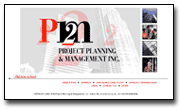 Project Planning & Management needed a world-class website to match their high profile clients needs and expectations. The Intercon Group and Cox Consulting delivered the site they were looking and more. A FLASH splash page and detailed project summaries helped convey P2M's message.
Progressive Benefits
www.progressivebenefits.com
Web Development with The Intercon Group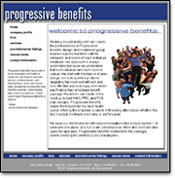 Progressive Benefits, a group insurance design and development company, needed a simple yet professional website developed in a short amount of time. Working with The Intercon Group we were able to put together a successful site in less than a week.